Duncan's Christmas Gift
Christmas story by Aunt Cheryl and Uncle Bruce
All train crews in the yard appreciate Duncan for working the caboose track and bringing the box car of toys to the children. Duncan is a good, hard working locomotive. The train crews want to reward him, but what do you give a locomotive?
For several days Duncan has seen strange creatures in the concrete LA River channel. He ask the Conductor who replied, "Ants, more and more Ants!"
Duncan is spotting Gondola Cars of scrap metal where Mr. Loader and Mr. Truck are working. Gondola Cars are sent from yard to yard along the railroad to recive unwanted metal. Unknown to Duncan there was something hidden in one of the cars sent to him from the General Shops.
Mr. Truck hopes that Duncan would not see the suprise hidden in the scrap metal. Duncan passes without noticing. Can you see the suprise for Duncan in the Gondola Car?
While Duncan is away, Mr. Loader carefully picks the suprise from the Gondola Car.
Mr. Yardmaster says, "Duncan you are a hard-working engine. We want to give you a suprise."
Right then Mr Loader and Mr. Truck come from behind the sheds. Mr. loader places the suprise gift on Duncan. "A Pilot, a BIG locomotive Pilot!" Duncan exclamed. "That Pilot fits just fine," Says Mr. Yardmaster. "Guess we had better get you loaded on the Flat Car for your trip to the General Shops.
The Big Hook placed Duncan safely on the Flat Car for his loooong trip.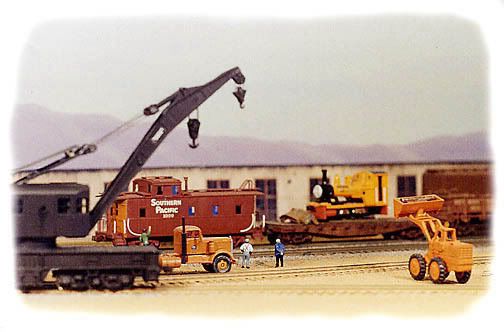 With his arm, the Conductor waves a Hi-Ball sign for the train to leave the yard.
Crossing the Mountains and the Desert, Duncan is on his way to the General Shops. "See you next year!" Duncan calls to his friends along the right of way.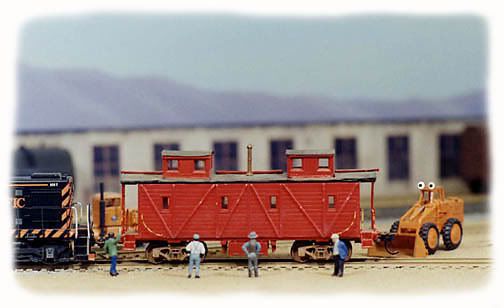 Meanwhile back at the yard a mysterious caboose has arrived. "Another caboose?" asks Mr. Loader.
---
More Duncan stories
The Christmas Tree Train
Duncan and the Christmas Relief Train
Duncan and the Lost Toy Factory
Duncan and the Toy Car
Dunsmuir Model Railroad Club